All over Europe, very small amounts of radioactive iodine (Iodine-131) have been detected in the ground-level atmosphere.
A preliminary report by the French 'Institut de Radioprotection et de Sûreté Nucléaire' (IRSN) states that the presence of the iodine was first discovered during the second week of January 2017 in Norway. Until the end of January 2017, further positive measurements were made in Finland, Poland, the Czech Republic, Germany, France and Spain.
According to the IRSN, Iodine-131 is a radionuclide with a short half-life and its detection is "proof of a rather recent release".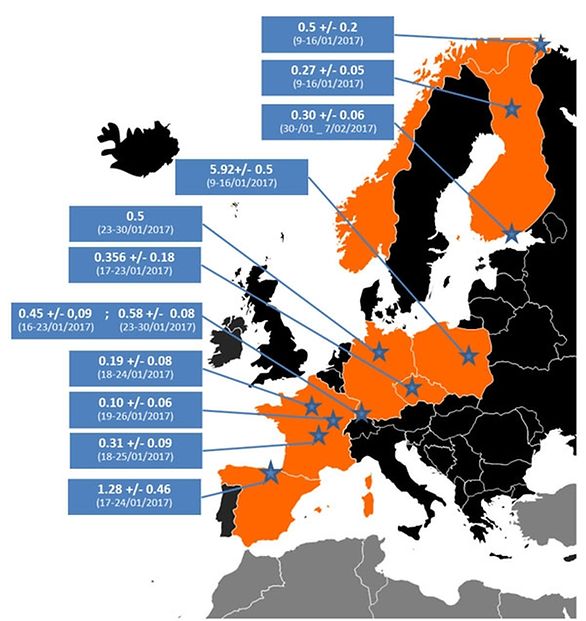 The amounts detected, however, are very small and do not raise any health concerns among experts. The concentration of particulate iodine detected reached 0.31 µBq/m3.
It is yet unknown where the radioactive iodine came from, sparking speculations about its origin.
Nuclear incident "nonsense"
The German federal agency for radiation protection in Freiburg said there was no reason for concern, as detection of this kind of radiation was not unusual. The measured values were that low that they could only be detected with special highly sensitive instruments.
Similar values were measured in the past and usually appear in winter time with stable high pressure weather and inversion.
The German administration furthermore states that iodine-131 is mainly used for medicinal purposes or for nuclear plants. The German experts however don't see any reason to believe that there could have been a nuclear incident somewhere.
The Czech radiation protection agency SUJB also described speculations about a possible nuclear incident as "nonsense". A problem at a production facility for radioactive drugs would be more likely.